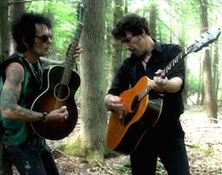 Jeff Slate and his all-star band will celebrate the life and music the late, great David Bowie, and the end of the David Bowie Is exhibition, at Hill Country Live! on Saturday, July 14th, with two sets of music beginning at 9 PM. Some very special guests are expected to join Jeff and the band, including David Bowie band alums Earl Slick and Mark Plati, and former-Lez Zeppelin star Shannon Conley. This is a No Cover show so make your "club level" reservations early by calling 212-255-4544!
Jeff and the band, who have had a residency at Hill Country for over Five Years, will rock the house with music by Bowie and the musical legends who inspired him, including John Lennon, George Harrison, Bob Dylan, Elvis Presley, Little Richard, Lou Reed/VU, Iggy Pop and more, as well as Jeff's original music inspired by The Thin White Duke.
In 2012 Jeff debuted his solo album Birds of Paradox to sold out crowds around New York City. Since then he has toured, released Imposters & Attractions, a new album of original music inspired Elvis Costello, as well as an all-star version of The Kinks' "Big Sky" on a tribute album to the late Kinks bass player Pete Quaife, and written extensively about some of music's biggest names for Esquire, Wall Street Journal, Rolling Stone and elsewhere. In May 2014 he made his Hill Country Live! debut with his Dylan Obscura show, playing a set full of songs that Dylan himself has never recorded or even played live, gems he rarely plays in concert and some of his best but least known songs, as well as original music inspired by Dylan, to a packed house. He's returned regularly with stellar, packed shows. Also since 2014 Jeff has been a featured performer with his Birds of Paradox band at the Fest For Beatles Fans here in New York. This year he performed a set of Traveling Wilburys hits, in celebration of the group's 30th anniversary, with Roy Orbison's sons, with whom he wrote 2017s The Authorized Roy Orbison biography. In 2017 he also contributed liner notes to The Beatles' 50th anniversary edition of Sgt. Pepper's Lonely Hearts Club Band.
Jeff's latest album, Secret Poetry, released in 2016, features performances by Bowie alums Earl Slick, Carlos Alomar, Gail Ann Dorsey, Mark Plati and Alex Alexander, as well as Laurence Juber, Steve Holley and many more!