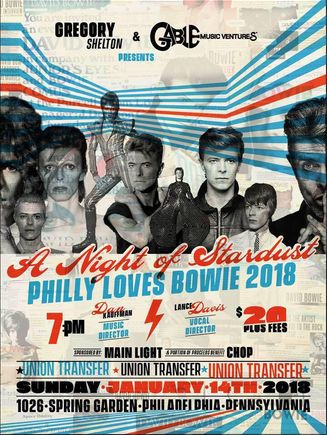 Slick & Slate set to appear at the Philadelphia charity event A Night Of Stardust, part of the Philly Loves Bowie week of events, with musical pal Mark Plati.
Here's more info:
A Night of Stardust, a celebration of David Bowie, and the grand finale of Philly Loves Bowie Week is happening again on January 14th, 2018, and will take place at Union Transfer.  Greg Shelton created A Night of Stardust in 2016 after Bowie's death shocked the world. "David Bowie paved the way musically, creatively and stylistically for so many people and continued to be a fearless visionary even up until his death. I wouldn't be the person I am without him. It's a pleasure to honor him at the highest level for the things that he gave me, the people of Philly and the world of Music, Art, Motion Pictures and Fashion." says Shelton. His vision was to put together a true celebration of Bowie, not just his music, but his style, and his various gifts to the world of music.  After selling out both World Cafe Live in Wilmington and Philadelphia in 2016 and 2017, Shelton and his team (comprised of Gable Music Ventures, Dan Kauffman, and Lance Davis) knew a larger venue was needed and all unanimously favored Union Transfer for the 2018 event.
Fans that attended the sold out show at World Cafe Live in January of this year will recognize the band members as each player is returning for 2018, and many of the vocalists including Johnny Showcase, Ginger Coyle, Grady Hoss, Deanna Roisin, and Hotsy Totsy are performing again.  New additions to the lineup include Alyssa Lee Lewis, and TruVox a teen vocal ensemble directed by Alyssa's father Paul Lewis, best known for his band Y-Not.  "Of course Bowie's songs are brilliant and I am the biggest fan, but for me I'm a bigger fan of who David Bowie was, an artist, a massive presence, his style, an actor and killer singer "says vocal director Lance Davis. "The last two Bowie concerts we've done were incredibly successful beyond our expectations. I'm ecstatic to see this evolve so quickly, not to mention Philly being a memorable part of his story!"
Perhaps the biggest news going into the January 14th 2018 celebration, is the scheduled performance of Earl Slick and Mark Plati (both ex Bowie band members.) Earl played lead guitar on David Live, Young Americans, Station to Station, Heathen, Reality, and toured extensively with Bowie.  Stepping up out of an appreciation of the dedication of the Sigma Kids, including Philly Loves Bowie's own Patti Brett & Marla Kanevsky, and also to assist in the goal of raising money for The Cancer Center at Children's Hospital of Philadelphia, in memory of David Bowie  (the event's beneficiary), he will be performing along with Mark Plati, who also has history performing and producing with David Bowie. Also performing is Jeff Slate, his partner in Slick & Slate, and his own son Lee John Madeloni on drums.
The finale concert will also include a Silent Auction that will include some Bowie memorabilia and some wonderful things for concert attendees to bid on. All proceeds of the auction will also benefit The Bowie Fund for CHOP.
Philadelphia Bowie fans get a full ten days of Bowie events kicking off on Friday January 5th with an exclusive tasting off a Bowie inspired Beer at Doobies Bar and the 2nd annual regional pop-up art show, inspired by Bowie.
Patti Brett, one of the organizers of Philly Loves Bowie Week says, "When David Bowie left us in 2016, I knew I had to do something to honor his memory.  I reached out to a handful of friends that helped me create what has become Philly Loves Bowie Week. What a lovely tribute to the man who inspired all of us, in a variety of ways. I'm so incredibly thrilled to be a part of this".
Robert Drake, another of the organizers of Philly Loves Bowie Week says, "besides a week+ of events and activities designed to celebrate the man and his unique spirit – we wanted to make sure that we could use this week as a portal to raise awareness and funds to help benefit cancer research in David's memory, and who better to benefit than children … and when it comes to caring for children, there's no place better than the Children's Hospital of Philadelphia. While no one should have to go through cancer, it seems especially cruel when it happens to a child. So, at every event during the Philly Loves Bowie week, we will work to raise both funds and awareness through the magic that is David Bowie.
As the Starman said himself… let all the children boogie!
More information on #PhillyLovesBowie week can be found at phillylovesbowie.com