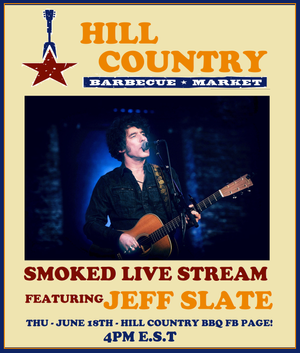 THURSDAYS AT 4! Jeff continues his #StayHome concert series, now in partnership with Hill Country Live! The shows, which began airing weekly via Facebook Live and Instagram Live on April 4th, and which included a special edition for Martin Guitar's Jam In Place series, have been a smashing success. Beginning on Thursday, June 18th, Jeff's online shows will be live-streamed via the Hill Country Live! and Hill Country Barbecue Facebook pages, as well as Jeff Slate HQ on Facebook and Instagram Live. 
Jeff has a long relationship with Hill Country Live!, where he has enjoyed a monthly residency for over five years. Jeff has performed 79 shows at Hill Country's New York City flagship location, playing original music and paying tribute to rock and roll legends like Bob Dylan, Tom Petty, John Lennon and David Bowie, among others, to packed houses. 
Today Jeff also announced the August 14th release of "Lockdown Live" on CD and download, plus cool new related merchandise, with profits to benefit social justice causes! 
Recorded live during Jeff's #StayHome concerts via Instagram and Facebook during Lockdown in early 2020, the 2 CD set features one disc of originals and fan favorite cover songs, plus a second disc consisting of covers of Bob Dylan songs. 
The August 14th release on CD and download will be followed by a streaming release later. 
Pre-order the album, as well as the new Jeff Slate Lockdown Live T-Shirt, via the Jeff Slate HQ store.