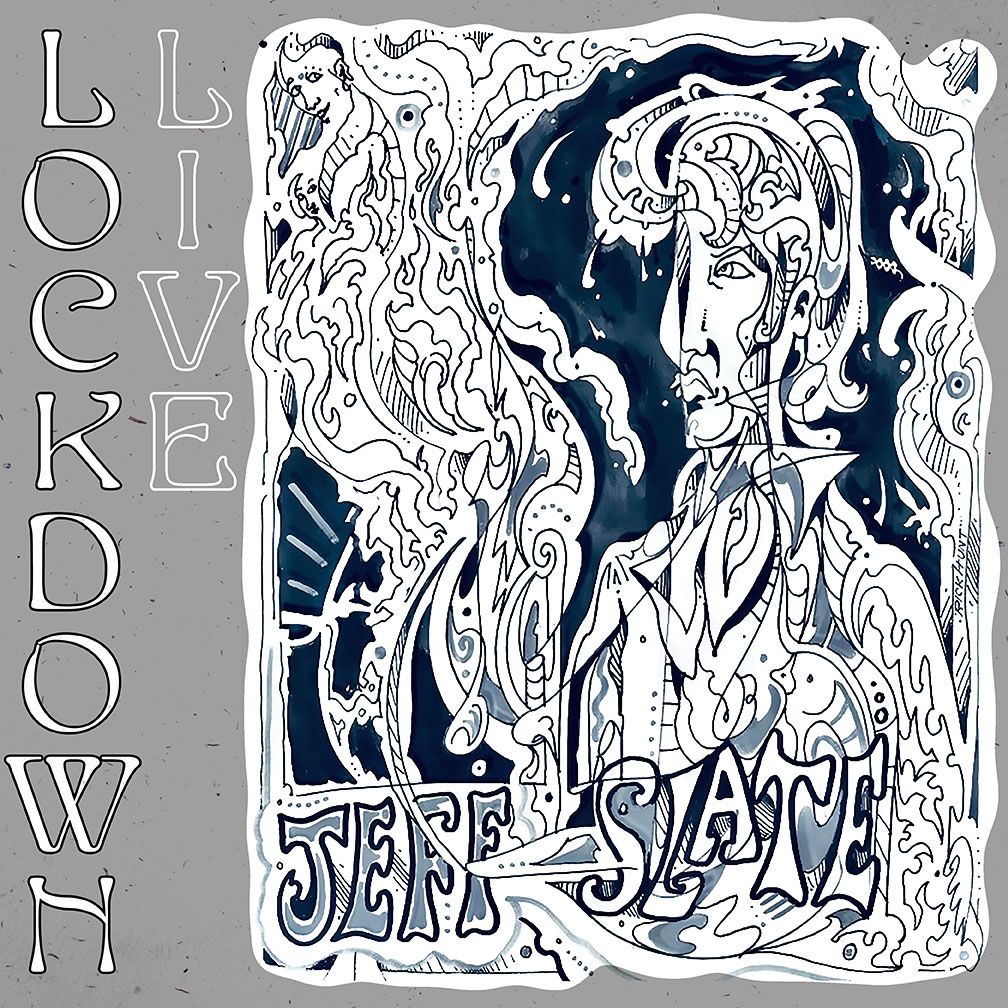 Acclaimed New York City Singer-Songwriter Jeff Slate Announces Lockdown Live, Featuring Performances From His Streaming Concert Series, Out August 14th
New York City singer-songwriter Jeff Slate has announced the August 14th release of Lockdown Live on CD and download, plus related merchandise, with profits to benefit social justice causes. Recorded live during Slate's #StayHome online concert series during the COVID-19 enforced Lockdown this year, the 2 CD set features one disc of originals and fan favorite cover songs, plus a second disc consisting of covers of Bob Dylan songs. 
The shows, which began airing weekly via Facebook Live and Instagram Live on April 4th, and which included a special edition for Martin Guitar's "Jam In Place" online series, have been a smashing success, with the latest edition, on July 16th, garnering over 6,000 views in just the first four days. Slate has played over 100 different songs during the series, including originals from his Birds Of Paradox (2012), Imposters & Attractions (2013) and Secret Poetry (2016) solo albums, his 1993 EP The Townshend Tapes, for which The Who's Pete Townshend acted as executive producer, songs he wrote for the band he founded in the 1990s, The Badge, and covers from artists as diverse as Tom Petty and John Prine to the Psychedelic Furs and the Boomtown Rats. 
2020 was supposed to be a busy year for Slate. In the spring he was planning to record an album with the legendary guitarist Earl Slick, and the pair were set to tour in the Fall, marking the 40th anniversary of Slick's involvement in the sessions for John Lennon's final album, Double Fantasy. The COVID-19 pandemic changed all that. 
"I started the shows as a way to stay active, and to raise money to bring meals to the healthcare workers here in my East Village neighborhood," Slate, who has continued work on an upcoming solo album remotely, said. "I didn't expect so many people to watch, or to raise so much money. And once the crisis had subsided here, I was glad to be able to use the platform as a way to raise awareness about social justice causes and to raise money for them." 
Slate has donated 100% of the proceeds from the sales of his merchandise – as well as signed copies of releases by The Beatles, Bob Dylan and others on which he wrote the liner notes, and The Authorized Roy Orbison, the book Slate co-authored with the late-legend's sons – to Meals Of Gratitude, Black Lives Matter, the North Star Fund, Justice For Julius, the Black Artist Fund and others, while covering the shipping costs out of his own pocket. 
Disc two of Lockdown Live includes covers of nineteen Bob Dylan songs by Slate, most recorded during the online show in May marking Dylan's 79th birthday. 
"Bob is a huge influence for me," Slate, who penned the liner notes for Dylan's More Blood, More Tracks Bootleg Series release last year, and who wrote about Dylan's new Rough and Rowdy Ways for both The Daily Beast and NBC Think, said. "My band was supposed to perform a show including complete performances of Highway 61 Revisited and Blood On The Tracks in honor of his birthday, but that wasn't meant to be. But I received so many requests for Dylan songs each week that it felt fitting to dedicate an entire show – and an entire disc of Lockdown Live – to him."   
Pre-orders for the August 14th release on CD and download, as well as Lockdown Live T-shirts and bundles including the CD and shirt together, are now available in the store at www.jeffslatehq.com. 
Meanwhile, Slate's online concert series continues. 
"I plan to play every Thursday at 4 PM (Eastern) until at least the end of August," Slate said of the concerts, which are now co-sponsored by Hill Country, the Manhattan restaurant and live music venue where Slate has had monthly residency for over six years, and where he's played nearly eighty shows. "Every live date I had booked into 2021 has been cancelled. Besides, it's been so much fun, why not?"